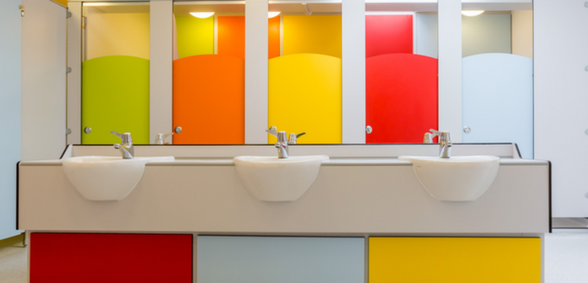 Achieving the right balance of what looks good, alongside privacy and safety in any washroom environment can be a tough challenge, but within a school we face the toughest critics of all – our children. Amwell Systems, washroom specialists discuss some of the key areas for consideration if you are specifying or updating your school washroom this summer
Safety
First and foremost any school washroom needs to consider the safety of its students. For younger children, this can include the use of anti-finger trap hinges to ensure that little fingers do not get hurt and that they can always get in and out of the cubicles safely by the use of magnetic catches. For both younger and older children, doors should always have an emergency release mechanism to ensure emergency access can be gained if required.
The Department for Education promotes a central hand-washing facility and says washtroughs are preferable to individual wash basins as they are easier to clean and can reduce potential flooding in the toilet area. Amwell's broad range of washtroughs are ideal for such installations are also available in several bold colours to add a touch of brightness to the washroom area.
Privacy
Privacy is a key requirement in any school washroom, however, with the growing trend of unisex toilets making its way into many schools this focus is highlighted further. Children need to feel safe and secure in their toilet environment or they can become reluctant to use them which can become detrimental to their general wellbeing and learning. ERIC (The Children's Bowel and Bladder Charity) says schools are finding that unisex washrooms are helping to encourage a safe and neutral space for students.
A flush fronted, floor to ceiling toilet cubicle such as Amwell's Urban range offers complete privacy for its users and is ideal for a unisex washroom to ensure that students feel safe and secure. Where a school wants to ensure privacy but also have a ceiling level space which can deter anti-social behaviour, Amwell's Splash range would be perfect. For younger children privacy needs to meet safety, here Amwell's Playtime and Acorn ranges come into their own, offering varying door heights that enable supervision of the early year's children, whilst still allowing them to use the toilet independently.
Regulations and Guidelines
Depending on your available space, for children under the age of five, the guidelines suggest one cubicle for every ten children. 'The Education (School Premises) Regulations 1999' and 'The School Premises (England) Regulations 2012' state that for children under 8, unisex toilets can be legally provided in schools as the only washroom facility. For children over the age of 8, unisex toilets can be provided as long as there are also separate toilet facilities available for each gender. It is recommended that toilet facilities in schools for children over the age of eight remain as a lockable cubicle configuration; however, provision only needs to be one cubicle for every twenty pupils.
Colour
Colour and décor play a huge part in our mood and there is no reason that the washroom area should be treated differently to any other area of the school. Bright, bold colours and even fun digital prints are far more likely to encourage smaller children to feel comfortable and at home in the toilet when they may perhaps not be used to using the toilet alone. For older children, many want to see a more sophisticated décor, with the portrayal of a more adult environment. Amwell's range of 36 standard colours, ensures that there is a shade to meet any colour scheme or even match school colours to allow continuity with other areas of the school. Amwell offers a range of both colour and material samples free of charge to allow people to see what colours will actually look like in the area.
A reliable supplier
A reliable supplier will always try to make your life as easy as possible and take away any stresses that they can. This can include offering accompanying items such as IPS Ducting, Vanities and Accessories so you can purchase all items required in one package. An adequate warranty, such as Amwell's five-year guarantee, will give you peace of mind long after the project is complete that the washroom products will still be performing. If you are organising the washroom renovation in-house then look out for a supplier who works with a network of preferred installers, who can save you time money and effort.
Learn more about Amwell
To find out more on how Amwell can help with your school washroom project this summer get in touch with their friendly and experienced team today on Tel: 01763 276200 or speak to them via their website on LiveChat.