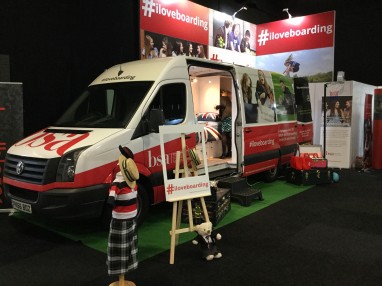 The BSA's 'Boarding Bus' rolled into the Independent School show this month, much to the delight of parents and children alike.
The two-day weekend event at Battersea's Evolution saw an estimated footfall of 6,000 as families flocked to their choice of independent schools there to promote the very best in British education.
The bus was a showpiece not to be missed, with its built-in bed, desk and refrigerator as well as ample shelf space for personal items and a slick flat screen TV playing our #iloveboarding video on a cheerful loop.
Decorated as a boarding room (think photos, plush pillows and sweets) potential boarders hopped up onto the bed, sat at the desk to put puzzle pieces together and eagerly asked their parents what boarding options are available.
"Good, modern, British boarding is admired the world over and this year we thrilled to take BSA Boarding Bus on tour around the UK to celebrate our #iloveboarding campaign," said Leo Winkley, BSA Chair and Headmaster of St Peter's School, York. "Students report that boarding enhances their school experience, develops soft skills such as tolerance and collaboration and helps them make friends for life. We're taking that message on the road."
As children played netball or took a polaroid snap with one of the 'boarding bears', parents had the opportunity to enquire about boarding schools local to their area. 80% of parents live within an hour and a half of their child's school – and there are over 75,000 boarders in the UK.
Visitors were keen to learn that the BSA promotes 'good modern British boarding' with over 550 member schools in the UK and overseas. The bus, decorated just as colourfully on the outside as it is on the inside, will be touring the country next year as staff attend numerous county shows to share the benefits of boarding:
• Royal Bath & West Show, 31 May-3 June 2017
• Royal Cornwall Show, 8-10 June 2017
• Royal Three Counties Show, 16-18 June 2017
• Cheshire County Show, 20-21 June 2017
• Royal Highland Show, 22-25 June 2017
• Royal Norfolk Show, 28-29 June 2017
• Kent County Show, 7-9 July 2017
• Great Yorkshire Show, 11-13 July 2017
• Royal Welsh Show, 24-27 July 2017
• New Forest & Hampshire County Show, 25-27 July 2017
• The Game Fair, 28-30 July 2017