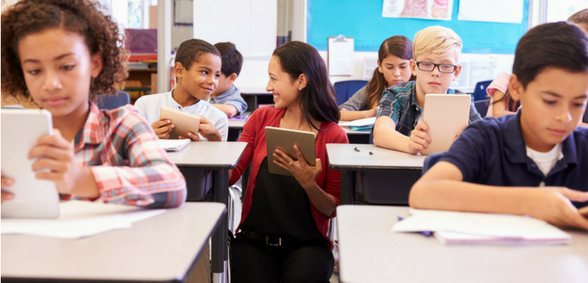 Leading independent school, Sevenoaks School, has unveiled lesson boxes as part of an innovative new programme to create greater access to learning resources for primary schools in Kent
The new outreach boxes have been designed and built by Sevenoaks School as a way of sharing fun and specialist learning resources among the 30 primary schools in its local network. The contents include everything from micro:bits for coding, virtual reality headsets, state-of the-art microscopes and cameras, to stethoscopes and a full size skeleton. Currently there are 30 boxes covering a host of subjects and aimed at KS1, KS2 and KS3 curriculum needs. Each box is different and contains enough equipment for the whole class. They come complete with step-by-step instructions for using the equipment, together with suggested lesson plans to make it easy for teachers to pick up and use.
The boxes have been developed as a result of feedback from local primary schools, with particular focus on science and technology equipment that is often too expensive for schools to purchase themselves. The boxes have been designed to support the key topics in the curriculum, and will allow schools to use the resources for a period of time, and then to pass them on to another school for use, hence maximising the investment and usage.
Lessons that the boxes cover include: 
Virtual reality – Using Google expeditions to travel the world, experience life on the space station or just visit various landmarks across the globe or watching 360° video content and 'feeling' the topic rather than just learning about it.
Vlogging – One primary school used green screens, Go Pros and video recording equipment for the pupils to experiment with keeping digital diaries and making their own vlogs.
Human biology – Digital microscopes have been used to examine cells and different materials, they allow the students to take photographic images, which can be printed and included in projects and workbooks.
Coding – Children have used Arduino hardware and software to practise programming and robotics.
The brainchild of Graeme Lawrie, Director of Innovation and Outreach at Sevenoaks School, and funded by private donors and businesses; the boxes are designed to give teachers and pupils access to a broad range of the latest learning materials without impacting on their own budgets. Sevenoaks School is the first school in the UK to launch a programme of this type and scale.
Graeme Lawrie comments: "We work closely with our local network of primary schools and are always on the look out for ways to further support them. I received an increasing number of requests around borrowing specific equipment or accessing certain technology, which sparked the idea for developing the boxes.
"We appreciate that some of the equipment we are providing requires a certain amount of specialist knowledge from teachers in order to use it to its full potential. There is a multitude of resources available to schools, however, it can be difficult for schools to commit to spending on resources when they do not know exactly what to buy or at the risk that it will be used once and sit in a cupboard for the rest of the year. But that's where we can help.
"We are able to trial different equipment and technology and use our specialist knowledge to advise on a variety of subjects. Particularly in the case of programming, it can be really tricky to know what to buy, as there is a lot of kit on the market. However, we have tested this on behalf of other schools, selected our favourites and developed lesson plan ideas suitable for a range of age groups. If the school then wants to invest in the equipment, we provide a full list of the box's contents and even suggest suppliers and offer discount codes if available, which can be used as a shopping list. We also offer support and continued professional development (CPD) to the schools' teaching staff, so they can realise the full potential of the resources.
"At the moment we have 30 boxes – they are already in demand and there is the scope to increase and build more boxes. The programme is a great way for us to support local schools and make the most of resources too, it is also a more sustainable approach to resources and avoids equipment being left unused for a large part of the year – something that many schools will sympathise with. We are currently refining the logistics involved so that the model can be replicated in different regions."
There is currently an online booking system that primary schools can access. Sevenoaks School then arranges for the delivery of the boxes and collects them to check for repairs before reallocating out to the next school. The "Lessons in a box" scheme ties in with the school's dedication to outreach and serving the community, which is part of Sevenoaks School students' curriculum. Many of the students visit local primary schools to support the development of skills such as reading, art, sport, languages and technology. The new boxes enable them to take the necessary resources for lessons that require additional resources and help them to share their passions and interests with the children.
Find out more about the programme.
Don't forget to follow us on Twitter and keep up-to-date with the latest news and features