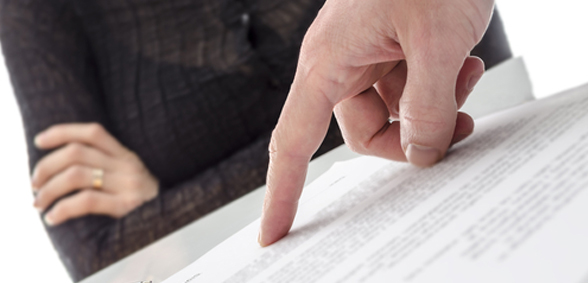 How many contracts does your school hold? What is the status of each? Are they compliant? Efficient management of school contracts can help you streamline processes, mitigate risks and ensure you're compliant. Marie Cahalane looks at the systems designed to make contract management straightforward and transparent
It's funny that a piece of paper can carry such weight – that your signature can be binding. When you enter into a contract that's exactly what happens – you make an agreement that can't legally be broken. And when you are responsible for a school and its key stakeholders it becomes all the more important that you manage these contracts effectively to ensure you are getting best value services and products – and also that you're not exposing your school to undue levels of risk. Conveniently, technology is here to make our lives easier.
The unfortunate nature of business
The sticky thing with contracts is that, once you've signed on the dotted line, you have legally committed to the service or product procured. Schools will have numerous contracts on the go simultaneously – all with varying start, renewal and termination dates – and it can be difficult to keep tabs on all contracts you have in place – especially in such a hectic environment. "Unless you are managing contracts efficiently, and have a system that holds documentation and records all contract information in place, you can get caught out," Tim Roots, managing director of Parago, warns.
The danger is that, as the time to review a contract looms, although you may have intentions to cancel, it's very easy to miss the auto renewal date, for example. "Unfortunately, this can be a deliberate occurrence, where the supplier includes a different auto renewal and termination date on the contract. For those caught out, this can lock schools into another year – or even three. It's not good practice, but it happens."
A contract management system will help you combat this; contracts are entered into the system – along with a copy of the contract – and the system then provides reports detailing which contracts are up for auto renewal within a specified amount of time and can be programmed to send a reminder when you're nearing the end of a contract – it makes sure you're not trapped in a contract that you don't want or need. "Plus, it gives you time to evaluate, speak to other suppliers and decide whether or not you want to carry on with that supplier or work with another," Tim notes.
Multiples of you
There is an added benefit for large independent schools and groups of schools that have chosen to work together – for example, a foundation. By grouping together schools can unleash their combined buying power – procuring at economies of scale and saving accordingly. By centralising contract management, as Parago did for The Stephen Perse Foundation, schools are given the opportunity to review contracts across all of their schools/departments. "They can assess all of their contracts and consider whether, for example, a particular four contracts might work better if brought into a central contract – whether a better price could be negotiated with a current supplier, or even negotiate a better supply agreement," Tim explains.
Contract management systems do just this – ensuring that the many departments in a school – or many schools in a group – are not dealing with different companies – or even the same company on different contracts. So, it's not just about avoiding being caught out, but making sure that best value for money is achieved – something that can save schools a great deal. As Tim explains, "We have groups of schools which have been enabled to save thousands of pounds by bringing contracts together and managing and reviewing them properly centrally – while still allowing some local ones where appropriate."
A matter of health, safety and compliance
Another advantage is that being fully aware of the contracts you have in place for services such as health and safety or maintenance checks helps to ensure that you're compliant. Having a contract management system in place which stores all your contracts can alert you to when checks need to be carried out and this makes for a much smoother process for schools.
"Educational organisations have the challenge of managing critical compliance and maintenance data to do with inspections from health and safety or ISI/Ofsted in terms of the management of policies etc.," Phil Taylor, sales director, Sypro Management, explains. Entering compliance tasks that require certification into a management system means that you have an easy-to-access database where contracts are monitored in real time – ensuring that you are up-to-date and at the same time providing you with documentation that shows you are compliant.
"There many monitoring tasks schools must do – electricity, first aid, hazardous substances, manual handling, etc. – all of which are legislatively required and at different frequencies, annually, quarterly, monthly, etc.," Phil explains, adding that good contract management systems are tailored to reflect a school's estate, define monitoring tasks and specify who is responsible – tracking those tasks thereafter and recording their status in an easy to read way.
So, how well do you manage your contracts? Have you entered into them understanding the terms and conditions? Have you reviewed your contracts to ensure that you are getting the best services/products for your school? Contracts are binding, but their management needn't be such a rigid process if done efficiently and, for that, we have the technology.
From a legal perspective
Eva Abeles, managing associate, and Emma Moody, head of charities, at law firm Bond Dickinson breakdown key considerations for contracts in independent schools
All businesses take on an element of risk when entering into commercial contracts with third parties. However, as charities, independent schools need to proceed with even greater caution to ensure that they're not exposed to undue levels of risk. Here are some of the key risks that governors of independent schools should watch out for when entering into, renewing or extending commercial contracts:
Does the school's governing document confer power on the governors to enter into the proposed contract? For example, if the terms of the proposed contract require the school to give undertakings or guarantees, do the governors have the power to do this?
Check that the contract is approved and signed by a person with the appropriate delegated authority from the governors. Regularly review your schedule of delegation to ensure authority levels remain appropriate.
Do the terms of the proposed contract require the school to take additional action to ensure the school is able to comply with its legal and regulatory obligations? For example, does the contract require the school to use pupil data in a way which it does not have consent for under data protection law?
Does the school understand the risk of providing indemnities and, if indemnities are required, are they sufficiently clearly drafted and value-limited? Care should be taken not to enter into open-ended indemnities, thus exposing the school's assets to risk.
How can the school terminate the contract? Check that termination provisions are clear and enable the school to extract itself from the contract if it becomes onerous, or if continued association with the partner could harm the school's reputation. Consider the financial consequences of termination.
Are the payment terms realistic and are any penalty provisions appropriate in the circumstances?
Check who owns the IP rights under the contract. Particular care should be taken when entering into software development contracts to ensure that the school owns all intellectual property in the materials it provides to a developer and it has sufficient control over its use and amendment
Ensure key milestones and reporting obligations are clearly identified and provide a mechanism for dispute resolution if a disagreement arises. In practice, have systems in place to recognise any potential issues early and agree how they will be dealt with internally.
If disposing of any interest in land consider whether the Charities Act 2011 provisions need to be complied with and comply as required.
If the contract provides access by a third party to the school's site whilst pupils are present, ensure the proposed arrangements are properly risk-assessed from a safeguarding perspective to ensure that the contract reflects all requirements necessary to ensure that the students/pupils are protected.
Schools may find it helpful to create a list of 'red flag' concerns against which proposed contracts are checked, to ensure any issues are highlighted and referred to the appropriate person and to maintain a central record of all contracts entered into by the school, with a note of the school's obligations in that regard.
Don't forget to follow us on Twitter and keep up-to-date with the latest news and features