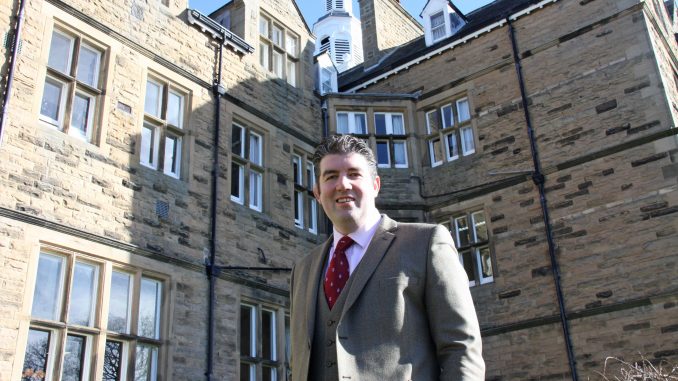 One of Northern England's leading independent schools has appointed a new headmaster to guide it into a new era.
Tony Jackson has been appointed headmaster of Barnard Castle School, County Durham, and will lead a fresh phase of development for the school when he takes over in September.
Mr Jackson, who succeeds Alan Stevens, joined Barnard Castle School last year as second master from Radley College, one of the leading public schools for boys in the UK.
At 37, Mr Jackson will be the youngest head of an English independent school in the Headmasters' Conference, the professional association of heads of the world's leading independent schools.
"From the moment I first visited Barnard Castle School I was struck by the wonderful, friendly atmosphere and sense of community that pervades everything that goes on here," he said. "The foundations have already been laid for Barney to be the very best independent school for boys and girls, day pupils and boarders aged four-18 in the North of England, with a growing reputation beyond our region and indeed the country. That's what I and all my colleagues are determined to achieve."
He said he intended to build upon the school's reputation for academic success, sport, music and drama as well as developing existing opportunities for pupils to learn skills for life through public speaking, social skills, leadership and CCF programmes.
"We are blessed with beautiful buildings and first class facilities in a stunning location. Class sizes are small ensuring individual attention for all our boys and girls, while a vast range of activities and opportunities beyond the curriculum gives every child the chance to shine. But what I believe makes Barney truly stand out are the relationships between staff, pupils and each other, the family atmosphere and the care everyone shows towards one another on a daily basis. It is this background that gives our children the confidence to aim high and achieve great things.
"There is a real sense of belonging and every pupil can leave here feeling they were part of something special and with bonds that will last a lifetime. I visit many schools and I know it's those things that make Barney different," he added.
The son of a school master who taught in the state sector for 40 years, Mr Jackson attended Bradford Grammar School before studying Politics and History of the Middle East at Durham University.
He worked in banking in Sydney for two years and played professional rugby in Spain before returning to the UK to work for Barclays in London.
He did his PGCE teaching qualification at Oxford University, where he gained a rugby blue at Twickenham, later joining Radley College as a teacher of History and latterly spending five years as a house master.
He is married to Dawn, a Geography teacher, and has three young children, Annabel, Georgina and William.
The Chair of governors at Barnard Castle School, Alan Fielder, said Mr Jackson was selected from a strong field of candidates in part for his energy, enthusiasm and passion for education, and the school in particular.
He said: "It is clear that Tony has very high expectations for Barnard Castle School. He has the advantage of striving for those expectations by building on the foundations now in place as Alan Stevens' tenure draws to a close, a tenure during which much has been achieved and represents a significant legacy of which Alan can justifiably be proud."
Mr Jackson's appointment marks a number of changes heralding a new era at Barnard Castle School.
Following the arrival of Dr Michael Truss as director of studies, Mark Robson is moving from Argentina to lead junior boarding for children from Year 3-Year 8.
Mr Robson is currently a higher level mathematics teacher and mathematics enrichment project leader at St Andrew's Scots School, in Buenos Aires, and was previously head of mathematics at St Peter's College and assistant head of boarding at Westminster School, both in Adelaide, Australia.
Mark Langley is joining the Preparatory School as deputy headmaster from Moorlands School in West Yorkshire, and David Cresswell is joining from Radley College as the new head of Sixth Form.