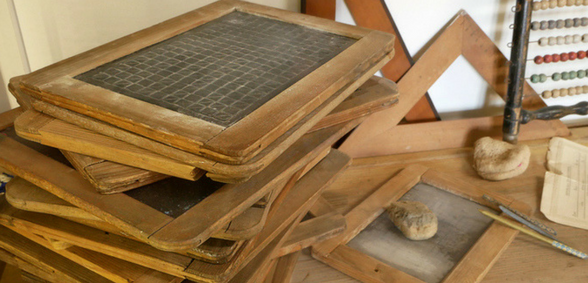 Edtech continues to evolve – rapidly – enhancing and supporting both teaching and learning. The blackboard was long-ago consigned to the past and even interactive whiteboards are reaching their 'best before' date. What's the latest? Interactive flat panel displays, it seems. Here Marie Cahalane asks the tech-experts, 'Why make the change?' and, when it comes to procurement, how can you ensure value for money?
Gone are the days of the blackboard; even the interactive whiteboard (IWB) is 'old school' in terms of the latest technology on the market – interactive flat panel displays (IFPD) are the next rung on the evolutionary ladder. They are no 'new thing', nor are they a passing fad; they offer an augmented learning experience by allowing teachers and students to interact with content, to connect with lessons on a more practical level and recent developments in the technology mean long-term cost savings.
Hello innovation (and savings!)
IFPDs are more advanced than IWBs; their (4k) resolution, brightness, reduced power consumption and long operating lifespan are key to their growing popularity. "Panels offer a cost-effective alternative, built to last, with 50,000 hours of interrupted lessons, user-friendly features that encourage collaborative learning and even Energy Star compliancy further lowering total cost of ownership – plus a five-year warranty," says Peter Claxton, senior manager for education solutions at SMART Technologies. Many models also support an integrated computer with slots for either open pluggable specification (OPS – a digital signage standard developed by Intel) or proprietary systems, and needn't be connected to an external device.
A single piece of equipment, they remove the need for projectors; they don't require replacement lamps or filters and are thus more cost-efficient and easier to maintain than their predecessors. As Steve Jones, managing director of SchoolCare, outlines, "While with an IWB you'd have the projector and the board to consider, with different levels of warranty and different levels of support required, an IFPD is only one piece of hardware to maintain." IFPDs also have a lower install cost overall, Steve notes adding that, while IWBs can be rather fragile, IFPDs are more sturdy.
Enhanced learning (and efficiencies)
"The learning benefits come from the software that's provided," Carl Sheen, education training consultant at Interactive Education, says. He also outlines how new software enables closer interaction between teacher and students and their devices in terms of instant mobile collaboration, assessment and management using different resources. The accompanying software – which should be included – is versatile, enabling documents and images to be imported from local files, the school's network or the internet. Some IFPDs will come with curriculum-rich software which gives access to teaching, learning and assessment software which, Peter says, not only provides engaging lessons but saves teachers' time on administrative tasks and saves overall costs by reducing the need for additionally purchased software. This, in conjunction with multi-touch capabilities, means that, "Students and teachers can manipulate what's on screen, interacting seamlessly, and simultaneously, with resources," Steve points out.
With resources on screen and integrated with the students' devices the need for printed documents is reduced and printing costs slashed as a result. "A typical teacher printing three worksheets per student, per lesson in a five-lesson day could print over 450 sheets every single day. Integrating a visualiser closely with the screen allows massive educational value and also enables text books and resources to be shared simply and effectively on the large screen," Carl explains.
Savvy procurement (and meeting needs)
"Schools tend to fall into one of three camps and these tend to revolve around the different tech-vendors," Steve says; he suggests that schools avoid mixing their interactive display vendors. "The biggest reason being it's not all about the display technology – it's about the software that comes bundled with it." It's best that all classrooms buy from the same vendor so that anyone can pick up the system and use it effectively and also to avoid loss of interactivity when moving resources, for example, classroom material, between different formats.
From a procurement perspective there are always better deals for multiple installations so, for schools planning to procure, Steve advises they replace and purchase in minimum orders of four rather than in ones or twos so as to get decent volume discounts on the hardware and also on installations. Carl says that it might also be worth looking at what other classroom equipment might be needed – again to benefit from volume discounts – and, when shopping around, he recommends you, "Look beyond the quoted price and evaluate the impact that any classroom technologies will have in the long term. All investments in classroom technology should enhance teaching and learning and, therefore, results."
Knowing what you want, and making an informed purchasing decision, is the best way to make savings – savings that can be used to train staff to use and optimise classroom resources – this is a necessary cost that is often overlooked. Peter explains that there are certain vendors that will offer 'technology-as-a-service' to schools, which is based on a monthly subscription for a complete collaborative solution. This can include everything from interactive panels, devices and networking hardware – including pedagogical software updates and even staff tuition – to support teachers' continued personal development obligations.
The future is nigh
While connectivity is not new, integration is the future and is gathering pace; expect integration directly with class tablet devices, allowing students to interact with the display from their seat using their tablets. You can expect to see touchscreen technology in classrooms for the foreseeable future, with developments in how content is accessed and shared, how data is backed-up, stored and made available and how technology is used. Exciting times to be in education!!
Don't forget to follow us on Twitter and keep up-to-date with the latest news and features