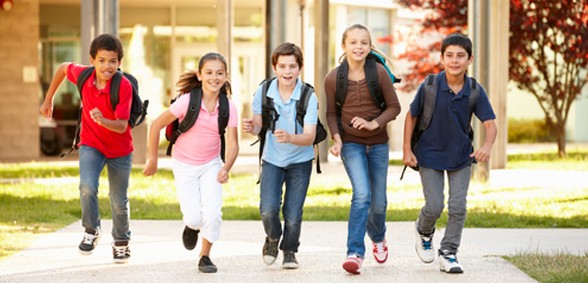 Credit: This story was first seen in The Guardian
Prince George is to attend a private primary school where the first rule is to 'be kind' and pupils are discouraged from having best friends, The Guardian reports.
Thomas's Battersea is a few miles from the family residence in Kensington Palace and charges parents £6,110 a term.
A message on the Kensington Palace Twitter site announced that he would join the school in September 2017.
Established 40 years ago, the school is described on its website as being a 'busy, thriving, purposeful' school, which has 540 boys and girls between the ages of four and 13.
It places a lot of emphasis on pupils' wellbeing, according to the Tatler Schools Guide. There is a counsellor on staff and the school uses 'human ecology' to track pupils' emotional responses at school.
Pupils are also discouraged from having best friends because it could leave other children feeling ostracised and hurt.
It also has strong academic results with a 'high-achieving, competitive side'. Pupils go on to win places at top public schools Bryanston, Marlborough and Bradfield and the school is known for its sporting prowess and drama productions.
George's parents, the Duke and Duchess of Cambridge, said in a statement: "Their Royal Highnesses are delighted to have found a school where they are confident George will have a happy and successful start to his education."
Ben Thomas, the school's headmaster, said of the news: "We are honoured and delighted that their Royal Highnesses the Duke and Duchess of Cambridge have chosen Thomas's Battersea for Prince George. We greatly look forward to welcoming him and all of our new pupils to the school in September."
Prince George, who is third in line to the throne, attends nursery at the Westacre Montessori School in Norfolk.
The Duke and Duchess of Cambridge recently announced plans to move from their main home in Norfolk back to their apartment in Kensington Palace, as Prince William will be taking on more royal duties.
It had previously been widely reported that their son would attend the much larger Wetherby School in Notting Hill, where Princes William and Harry were pupils.
Princess Charlotte, who will be two in May, is due to start nursery in the summer.