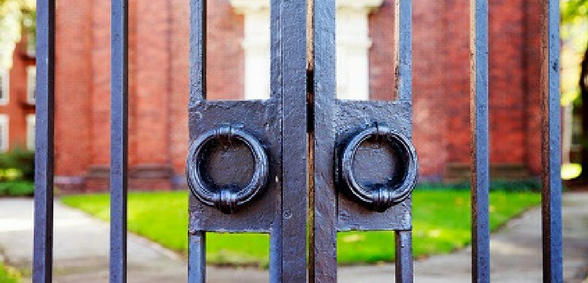 While a terrorist attack in your school may seem unlikely, a recent hoax which affected 100 schools reminds us of the importance of being prepared for the unexpected. John Allen, access control at Axis Communications, discusses the key principles of an effective school lockdown and how IP-based security systems allow schools to react to an incident as it happens
Our schools are built to nurture the next generation, to bestow upon them a passion for learning. They're also considered safe havens for our children, places where we can leave them secure in the knowledge that they're protected.
However, we live in an increasingly unpredictable world; the UK's terrorism threat level is currently 'severe' and last year the National Counter Terrorism Security Office, or NaCTSO – with support from the PSHE Association – updated their advice for schools regarding emergency planning and protective security advice.
In response to this, a growing number of schools across the UK have developed or updated lockdown procedures and begun running lockdown drills. In reality, the likelihood that they'll face a true threat is low but, as we saw with the recent Minecraft-related bomb threat hoax that affected 100 UK schools, you never know where a threat may come from. Preparing for all eventualities is the only way to truly safeguard all students and staff.
The key principles of an effective lockdown
In order to establish an effective lockdown procedure, there are several different areas to consider – from understanding the environment you're looking to secure through to developing and communicating your security strategies.
At Axis, we recommend:
Identifying boundaries and safe zones: educational institutions should set out and plan to secure a perimeter or boundary. This might include perimeter monitoring via surveillance cameras and, possibly, using cross-line detection. Schools must also decide where to locate fall back/shelter zones.
Understanding your environment and how best to respond: this should include determining how the site can be split into zones to allow specific areas to be locked down, identifying how to achieve effective full or partial lockdown of the environment and establishing how to quickly secure all access points. Zoning is also essential to safety and responder planning.
Developing security strategies and protocols: facilities must develop management procedures for anyone entering or leaving the site, establish incident procedures – including ways of managing both planned response and fast-changing situations – and ensure clear roles and responsibilities for all staff who are a part of response procedures.
Increasing communication and training: a robust plan regarding how the lockdown and post-lockdown process works must be communicated to students and staff. Staff must also be trained in the procedures and students educated via drills and RUN HIDE TELL training.
The importance of physical security technology
The need for an effective, efficient and dynamic security solution is paramount in schools and technology plays a crucial role in this. Key to achieving a secure and safe environment is the use of physical security technology. The latest systems, which take advantage of internet of things (IoT) technology, allow users to react to events in real-time.
Many of the traditional proprietary camera, access control and audio systems currently in place are linked to some degree, but these respond poorly to dynamic, changing threat levels when compared to an IoT approach. The latest IP-based security devices offer more flexibility, allowing users to react to an event as it happens.
A wide range of hardware and software has been developed in response to this need, from door stations, alarms and remote alerting through to access control, PA and messaging systems. These allow schools to respond to incidents as they occur, adapting to changes and, therefore, meeting the many, varied demands of lockdown situations.
Get the best return on your security investment
Furthermore, with ever tightening budgets, an integrated system made up of video surveillance, access control and audio also allows schools to get the biggest possible return on their security investment. A robust system will allow schools to combat everything from bullying and physical abuse through to absenteeism, vandalism and theft. Bad behaviour is deterred thanks to the constant visible security presence; all incidents can be investigated, and suspects identified.
What's more, the emergence of on-cloud, managed security services offers schools and academies more options to invest and improve their safety, security and lock-down plans.
To keep your school fully protected you need to be able to see what's happening 24-hours a day. With a networked surveillance and security system you're guaranteed a clear view of what's happening, whatever the situation.
About Axis Communications
Axis
offers intelligent security solutions that enable a smarter, safer world. Axis has long-term relationships with partners and provides them with knowledge and ground-breaking network products in existing and new markets. 
Don't forget to follow us on Twitter, like us on Facebook, or connect with us on LinkedIn!