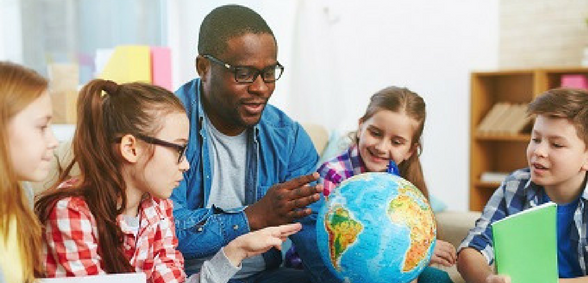 Technology is all about innovation; in a connected world, Josephine Lister, editor of HundrED – a not-for-profit organisation dedicated to driving educational improvement, suggests taking a global perspective to education, identifying key global education trends and how technology can support connections-based learning
We have never been so connected to each other, meaning ideas can spread around the world at a rapid rate. This is just as true within education, where you'll find schools halfway around the world from each other innovating their practices in similar ways. So, what are the global trends in education? Education is reactive, so to find that out you have to pinpoint the key issues of our time.
Identifying key issues
Student motivation is a key issue that all teachers can relate to, the widening gap between the real-world and the world inside school walls adds fuel to this fire and means engaging pupils has never been so difficult. Then there's the universal uncertainty we are all feeling, with jobs, economies, technologies and skill-sets changing at too fast a rate for education to keep up with.
Finally, there are the global issues that we face – in particular, the threat that climate change poses to each and every one of us. In order to meet this challenge, students need to be prepared to face it and to have the courage to know that there are solutions, but unfortunately, many formal curriculums don't include sustainability.
A contemporary education system
Education systems of the past are out of line with today's world because they haven't evolved and have incorrectly predicted the skills children will need when they leave school. Realistically, none of us knows what the world will look like in ten, twenty, thirty years' time. So, how do you prepare children for an uncertain future? You need to build their character.
Without skills in resilience, empathy and the 'six Cs' – including critical thinking and creativity – children will be left adrift once they enter the real world. Developing these skills throughout their lives will help to stand them in good stead so that they can face any future.
Skills such as these can't be taught individually, they're more experiential, so educators need to find creative ways to develop their students' characters so that they're well-rounded individuals who have all the mental and personal tools they need at their disposal. The global Forest School movement uses the natural world to teach children about social-emotional learning as does Mutt-i-grees, an American project that sees dogs being brought into the classroom. Then there's Canadian-born Roots of Empathy which uses babies to build empathy skills and to help children learn about non-verbal communication.
Problem and project-based learning
Problem and project-based learning is an excellent way to build the desirable skills of critical thinking, creativity and collaboration and can cross over with learning how to be a global citizen, learning about global issues and instigate real learning to take place when looking at specific areas of the curriculum. For instance, in projects like Mantel of the Expert, from the UK, fictional scenarios are created in order to inspire meaningful and purposeful classroom learning.
In Mantle of the Expert, students are grouped together and pretend to be experts working on a client's commission which has been designed by the teacher. In these projects, students get to take responsibility for their own learning, have to use their critical thinking and use inquiry and problem-solving skills all the while learning about a section of the curriculum they need to cover that year.
Sustainability and character
Sustainability and character skills also cross over quite nicely, with citizenship and collaboration being a part of working on global problems as in Global Learning, an educational initiative that anyone can get involved with, where students work on real-life problems with other students from all over the globe. The projects are all aligned with the UN's Sustainable Development Goals with past projects focusing on global equality and water issues. The current project is the Climate Action project, where students will build their knowledge on the issues related to climate change before going on to develop solutions.
Nam Nho Thanh, a teacher in Vietnam, uses Global Learning with his students as it's a subject that's particularly close to his heart, 'We've had countless consequences from climate change such as rainstorms and floods, all of which affect the lives of people here (in Vietnam). Through the project, both my own students and students all over the world learnt to recognize the importance of coping with this huge global problem.'
Elsewhere in the world, other schools are taking the initiative to tackle climate change. For instance in Bali, The Green School runs a unique international educator course to get teachers literate in sustainability and fired up to spread their newly built knowledge with their students. In California, MUSE School has a whole school approach to sustainability where the cafeteria only serves plant-based food which is kinder on the planet than meat and dairy farming (they slowly phased out any meat products), they have a green campus with natural materials such as bamboo flooring and solar panels shaped like flowers which follow the sun – maximising solar power at the school. Not only has the school been designed to be a beacon of sustainable living and design but the school curriculum is focused on eco-literacy.
Connections-based learning
Focusing on real-world problems such as sustainability can help to engage students, as can using the technology that students use in their daily lives in the classroom and by connecting what they learn with real-life careers to make learning meaningful. Although technology means that schools have fallen behind it can also be the answer to helping it catch up and to create a richer – more real – learning experience. Connections-based learning allows for students to learn from experts in a certain field or to learn more about career options. This can be implemented as Norwegian Global Teacher 2018 Finalist Barbara Zielonka does, through using LinkedIn and Skype to find experts and to get them to give short presentations and Q&A sessions with her class.
Similarly, in Cambodia, The Liger Leadership Academy invites experts into the classroom or Skypes them in to fill in the gaps of the teachers' knowledge, such as providing music education if no musically gifted teachers are currently employed at the school. MicroCampus in Shanghai uses connections-based and project-based learning to give expatriate students the opportunity to learn about their host country through travelling to a remote village and giving the students projects to carry out which include interviewing native locals.
Through this kind of learning children learn more about other cultures, careers and expertise than their one teacher could ever possibly teach them. Through utilising everyday technologies and making use of local locations, we can provide students with a rich learning experience where every day they are inspired, learn something totally new and prepare them for the real world after school.
Connected at a global scale
Thanks to the internet, teachers have huge swathes of media available to them that they can use to invigorate their curriculums. Global Oneness Project is one such example, who provide free high-quality documentaries, essays and photo articles on global issues such as climate change and migration. They also accompany their materials with learning plans to make it as easy as possible for educators to utilise their materials and drop them into their class schedules.
The fusion of skills, curriculums and teaching styles is something happening worldwide as educators realise that the way to truly maximise learning is to break out of everyday traditions, take the initiative and mix up their teaching. Of course bigger budgets, more forgiving assessments of both students and teachers alike and more holistic curriculums would be welcomed, but teachers do have the power to innovate their teaching practices today. It's all about making the most of what you have to hand, whether it be through inviting professionals to give talks via Skype to your class, to finding global projects for students to partake in or creating your own to learn character skills. The school day has never had so many opportunities!
Don't forget to follow us on Twitter and keep up-to-date with the latest news and features